Okay, Okay, I know I said this blog was for local gardens/ gardening but it's January and there is not a lot to see right now!  And so, for your viewing pleasure, we'll post a few from OTHER places!
I had the great gardening pleasure of spending 18 months as an "Oregonian".  That green, happy place where nearly ALL plants grow.  It was not uncommon to discover an unexpected garden to visit while traveling on the backroads through the Willamette Valley- which is precisely how I discovered Stansny Gardens. It literally appeared out of nowhere off the side of a highway while we were traveling to McMinville.  Of course we had to stop!
The gardens were designed by Takuma Tono, the same man who designed the world-famous Portland Japanese Garden and installed back in the 1970's.  The purpose of the gardens is to showcase the beautiful stone pots and containers hand crafted by the garden's original owner, Czechoslovakian-born George Statsny.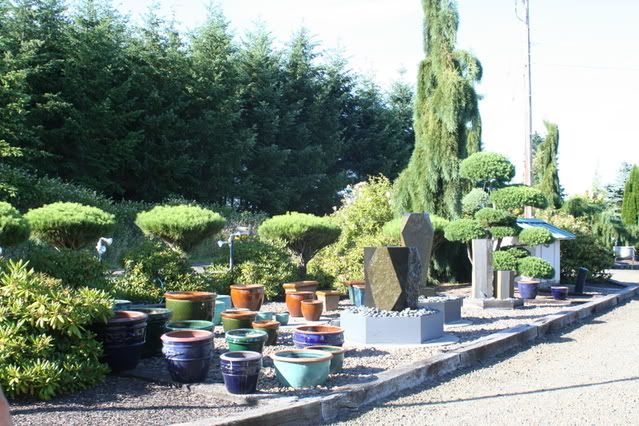 The gardens and business are now owned and managed by Joe and Cristi Mason-Rivera who have endeavored to continue George's vision and tradition of fine craftsmanship.The pieces they ARE lovely works of art! However, to my gardener's eye, the finest sculptures on the property are the living ones.
I believe that use of interesting conifers is one of the most important aspects to creating a gorgeous four-season garden- and generally the most overlooked by amateurs and pros alike.  Statsny Gardens proves that a combination of conifers, Japanese maples and a few, select plants yields a garden with visual diversity that is greater than the sum of its plants.
If you are ever LUCKY enough to find yourself headed to the Oregon Coast via the Salmon River Highway (route 18), Statsny Gardens is a wonderful spot to stop and enjoy works of art in many forms- and perhaps even bring some home!
Note:  All the conifers shown here ARE hardy along the Wasatch Front (not the Wasatch back- most are Zone 6) if properly planted/sited.  The Weeping Sequoia needs a sheltered position but can do quite well.  The Blue Atlas Cedar is hardy as well but almost always planted in locations where it will not have sufficient room to spread out in its preferred unpredictable fashion.  Cedars should not be grown in our foothills and anywhere that deer are a problem unless you're willing to live with some damage.  Planting one is like ringing the dinner bell for deer! This winter we've had two different arctic cold snaps which have been very hard on both of the above conifers if they are in exposed positions.  Hopefully they will rebound!
Posted by Cynthia
Related posts: